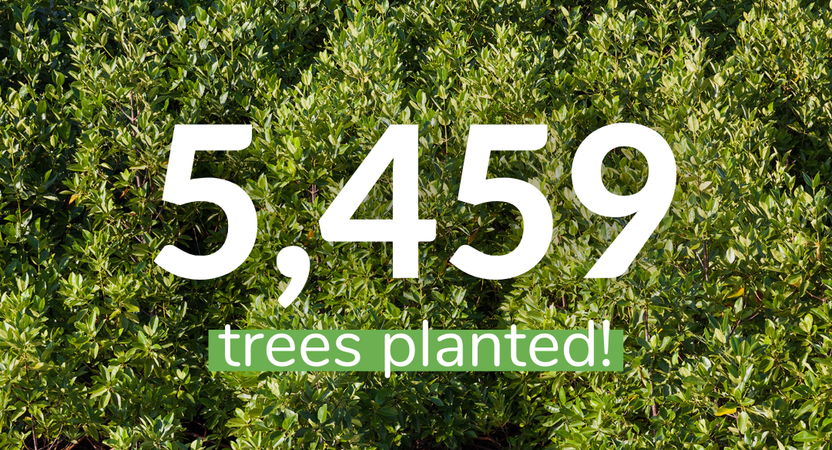 Turning our footsteps into forests
Over the month of September 2022, we participated in a campaign that linked environmental action with employee wellbeing, capturing two important awareness days: FSC Forest Week, which increases awareness of responsible forest management and World Mental Health Day, which raises awareness of mental health issues.
We decided to use the Treekly app and signed up to their 30-day challenge, enabling the whole team to turn their footsteps into forests. Our daily steps were recorded by the app, with the reward of one Madagascan tree planted on behalf of each participant that walked 5,000 steps a day. A weekly leader board fuelled some friendly competition within the office, motivating all to increase their step count ranking.
The campaign had a profound impact; 22 million steps were walked and 5,459 mangrove trees were planted. Mangrove trees are key players in tackling the climate crisis as they absorb and store carbon in sediment that builds up on the seafloor known as 'Blue Carbon,' capturing approximately 10 times more carbon than terrestrial forests. As a result, 272 tonnes of CO2 will be removed from the atmosphere between now and 2030. We also provided 54 workdays for people in Madagascar.

As the additional purpose of the campaign was to focus on everyone's mental wellbeing, we were pleased that the campaign had such a positive impact, mentally and physically. Our Client Manager, Matt Morgan, said "I have really enjoyed using Treekly over the last month. It has introduced some friendly competition within the company with everyone wanting to be at the top of the leader board. "I am usually relatively active, but Treekly has encouraged me to go out for a walk more regularly. Not only has this made me feel better physically, but walking more helped me relax after a long day at work, all with the added benefit of planting trees in Madagascar!"
The campaign successfully highlighted the importance of protecting our planet and our health, and we would encourage other organisations to follow in our footsteps!