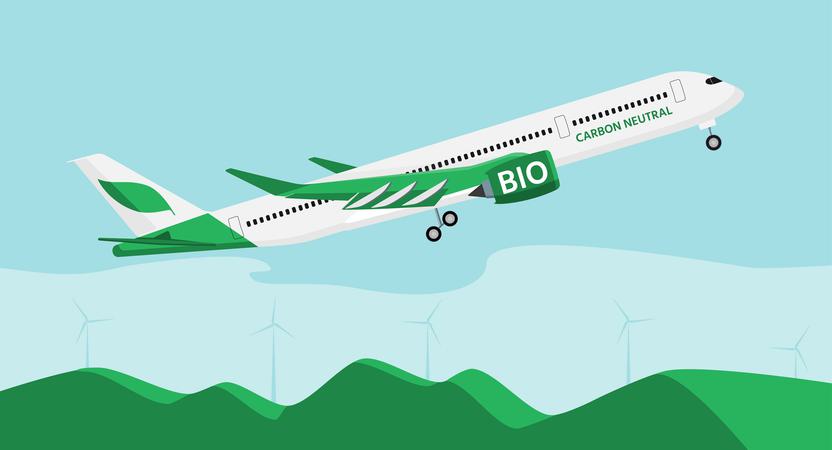 Sustainable aviation fuel
The aviation industry is one of the largest contributors to greenhouse gas emissions and one of the toughest sectors to decarbonise.
Corporate travel is a huge part of this, accounting for a third of aviation emissions.
Growing interest in sustainable aviation fuel, which offers an 80% lifecycle emissions reduction compared to conventional fuel, is a significant step forward to a greener aviation industry.
What is sustainable aviation fuel?
Sustainable aviation fuel (SAF) is fuel derived from sustainable feedstocks such as waste products, biomass or cooking oil.
SAF recycles carbon as opposed to increasing it, effectively closing the carbon loop. There are even some emerging SAF pathways that have a net-negative greenhouse gas footprint. It is also a 'drop-in' fuel, meaning it can be mixed in or replace traditional jet fuel without having to alter the aircraft or infrastructure.
In addition to carbon reduction, SAF contains fewer impurities such as sulphur, maximising the reduction of sulphur dioxide and particulate matter emissions – emissions made up of small liquid droplets and solid particulates suspended in the air.
Boosting the demand
Regulatory ambition is propelling the need for sustainable fuel in this industry and we have been seeing a gradual decline in UK aviation emissions.
Emissions decreased by 3% in 2019 compared to 2018, and in 2020, they plummeted by 60% from the resultant travel restrictions of the Covid-19 outbreak.
While there is improvement, demand for SAF must increase to make significant headway. Part of this challenge is convincing fuel suppliers that SAF is worth the investment.
Government action
In July 2022, the Government imposed a SAF mandate in the form of a greenhouse gas emissions reduction scheme. This demands that by 2030, at least 10% of jet fuel must be SAF - it is currently less than 0.1%.
SAF has received controversy, as some methods of generation are extremely detrimental to the environment, for example, burning large quantities of biomass or waste. The SAF mandate details that SAF derived from organic compounds like hydro processed esters and fatty acids will be capped, ensuring that environmental impact is minimised.
The solution to greener aviation?
As aviation is almost completely dependent on fossil fuels, it is crucial that the aviation industry mitigate their impact on the climate crisis. Business travellers in particular, must collectively eliminate this substantial component in their carbon footprint, to ensure we meet the net zero target by 2050.
Currently, SAF is a more costly alternative to conventional fuel which is preventing wider uptake from airlines. Boosting demand is required in the short-term to ensure lower costs in the future.
However, it is an attractive alternative to fossil fuels. Eradicating the issues of fluctuating costs and supply and demand associated with crude oil, it also offers a degree of energy security, as it is not geographically limited like fossil fuels and a large range of SAF feedstocks can be generated around the world.
To have a substantial impact requires effort from all parties involved: travellers, airlines, corporations and fuel suppliers. Other carbon-reduction strategies across the industry also need to be accelerated, including more efficient aircraft design, smarter operations and the development of future technologies like electrification of aircraft.