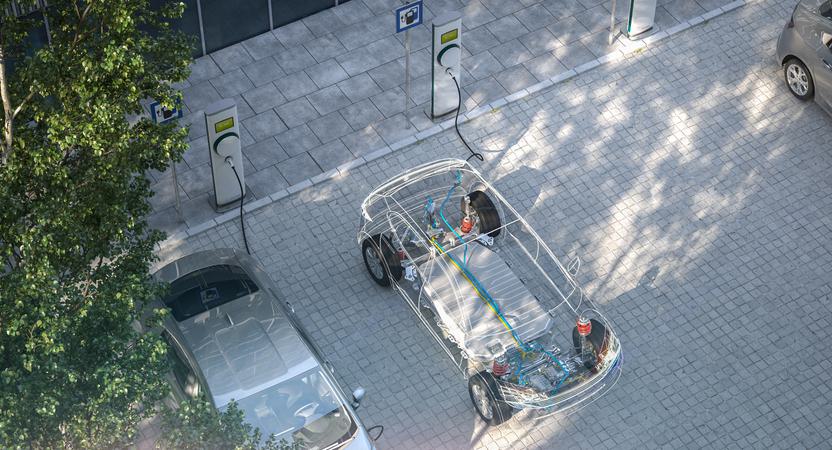 Seven benefits of an electric vehicle fleet
Since the Government brought forward the ending of the sale of new petrol and diesel cars and vans to 2030, and hybrids to 2035, the impetus for electric vehicle fleets, including EV trucks, has grown even stronger.

As transport provides the largest proportion of UK carbon emissions – 26% - there are many reasons to start planning for a move to an EV fleet. Here are seven of the main ones.
1. Sustainability and ESG
An EV fleet will undoubtedly help an organisation reduce their carbon footprint. It is a strong statement underlining commitment far beyond simpler changes, such as LED bulbs. It will also support investment, particularly when that is linked to the achievement of ESG (environmental, social and corporate governance) goals.
It improves air quality and exposes your employees to fewer pollutants.
2. Enhancing reputation
Consumers and business customers are increasingly looking at buying from brands that have strong green credentials, especially amongst millennials and Generation Z. This also applies to attracting and retaining employees, who will want this commitment from their employer.
3. Tax advantages
There are tax benefits to having an EV fleet, including benefit in kind tax advantages for company car drivers and reduced Class 1A National Insurance contributions and reduced total cost of ownership.
There is no vehicle excise duty on zero-emissions cars and exemption for eligible vehicles from schemes such as the London Congestion Charge, all of which will reduce running costs.
4. Lower costs and improved productivity
Whilst many fleet managers may have concerns about the cost of buying a new EV fleet, there are ongoing savings in addition to tax benefits. This includes a lower cost of fuel, lower maintenance, increased productivity and the potential to save through charging stations using locally generated electricity or commercial battery storage.
Maintenance costs are lower as electric vehicles have fewer mechanical parts and are more reliable. There is also better data available for pro-active maintenance than there is for petrol and diesel vehicles. A more reliable fleet means less downtime and enhanced productivity, especially as there is then no need for drivers to avoid low emission zones.
Total cost of ownership of EVs is now very similar to that of a petrol/diesel vehicle, as are the driving experience and performance.
5. Higher employee satisfaction
As well as supporting employees who need company vehicles, installing EV charging points in your company premises will be of benefit to other employees with their own electric vehicles and may encourage other staff to buy one too, as they would no longer have "range anxiety".
6. Zero no-go areas
There is an increasing number of low and ultra-low emissions zones in the UK and some areas are planning to only allow zero emission vehicles beyond certain dates. That could have a significant impact on any fleet, particularly for a business with a nationwide presence.
7. Monetising EV charging
Depending on your business, you may be able to provide EV charging to customers for a fee, as well as the benefit of retaining them on site/in store for longer.
You can also look for ways to monetise through investing in commercial battery units for your charging points, buying power off-peak and then using during peak hours to charge EVs, potentially selling any surplus back to the grid at peak rates.
You may also be able to invest in your own on-site generation, such as solar power.
Where did it all begin?
Electric vehicles are not new. The first practical electric road carriage was built in 1887 by Magnus Volk. This Columbia Electric at Beaulieu Motor Museum was made in 1901 in the US and marketed in Britain by The City & Suburban Electric Carriage Co of London.
It was bought new by Queen Alexandra to use at Sandringham. The Autocar of 25th May 1901 quotes: "Her Majesty … is delighted with the ease and simplicity of control and manipulation."
The downside was that batteries were heavy and the range was limited (the Columbia had a range of 40 miles on one charge).
Enormous progress on this front has been made, and continues to be made, since 1901.
Where is it all going?
We think it is a case of when not if. Fleet managers should be putting plans together now and engaging with manufacturers to ensure that the electric vehicles being designed will meet the future needs of business fleets.
The benefits of electric vehicles are strong and will continue to get stronger between now and 2030.