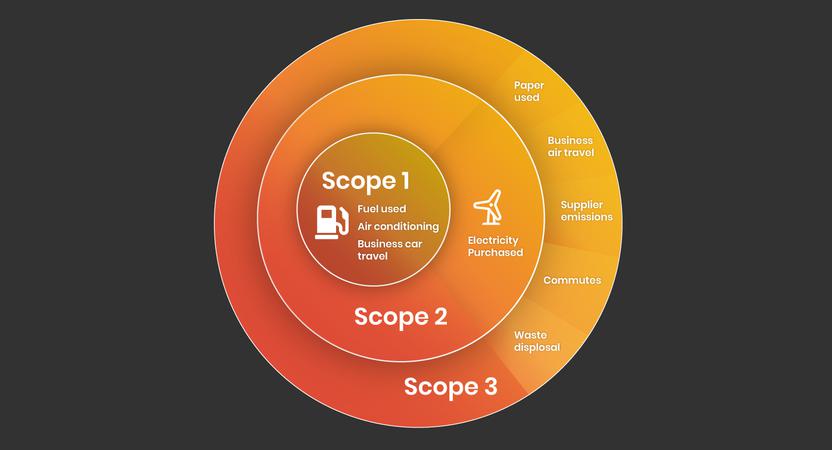 What is the difference between net zero and carbon neutral?
The Greenhouse Gas Protocol establishes a comprehensive framework for measuring and managing greenhouse gas emissions from private and public sector operations, value chains and mitigation actions.
They have produced the world's most widely used greenhouse gas accounting standard. This includes three scopes of emissions.
Scope 1
Scope 1 greenhouse gas emissions are the emissions released into the atmosphere as a direct result of an activity, or series of activities, carried out by a business. These are often referred to as direct emissions such as heating an office or transporting goods by vehicle to a customer.
Scope 2
Scope 2 is the energy your business purchases, in other words, the emissions created in the production of energy that is eventually used by the company. This can be zero if you are purchasing 100% renewable energy.
Scope 3
Scope 3 covers a much wider remit and includes transportation and distribution, waste generated, leased assets, business travel, employee commuting and purchased goods and services through the supply chain, water consumption, and IT equipment and services. It covers all your indirect emissions.
If you'd like to find out more about the methodology and principles behind The Greenhouse Gas Protocol, you can download the Corporate Accounting and Reporting Standards here.
Carbon neutral
Achieving carbon neutral status only covers scopes 1 and 2. To be carbon neutral, a business needs to offset the carbon they directly emit into the atmosphere and look at the energy they are using, and the emissions associated with this power generation.
A business can eliminate scope 2 emissions by only purchasing 100% green energy.
Net zero
Achieving Net Zero takes it one step further, covering scopes 1, 2 and 3 and is therefore more challenging to achieve. It involves much more upfront work to collect and process data.
Achieving Net Zero requires more investment and buy in from all areas of a business and thought needs to go into creative ways to achieve it.
The UK set a target to achieve Net Zero by 2050, which is looking increasingly over-ambitious unless businesses act immediately.
How we can help
There are various ways we can help if your business wants to take action to limit the impact it is having on the environment.
We would start with an initial conversation and make recommendations based on your industry, your future and appropriate legislation and government schemes that might be applicable.
If your business is an SME with certain needs and barriers, we launched a brand-new resource to guide you through this work: our very own Net Zero Club. You can read all about it here.

Useful links