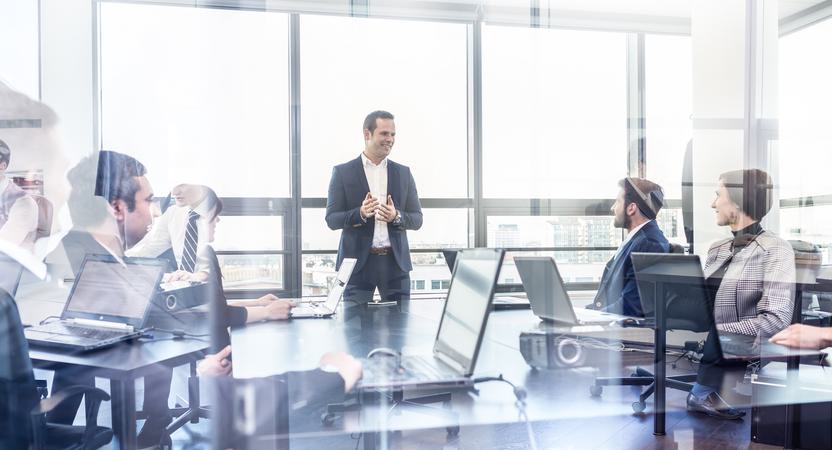 Behaviour change and employee engagement
Because the cost of energy in the workplace doesn't directly impact on employees financially, businesses should think about how behaviour change and employee engagement can be useful tools for reducing energy usage and carbon emissions.
Change and behaviour should be driven from the top
There needs to be a commitment from the top of the business, with senior executives being actively involved in the energy road map. Energy efficiency, carbon reduction and environmental policies need to be firmly integrated into the company mission statements. A cross-functional team can be created to look at all aspects of the energy strategy from HR to legal and procurement.
Everyone needs to be involved
For change to happen, everyone within a business can be made to feel like they can make a difference. This means change needs to be championed by leadership and included in polices within the business. Employees should be empowered to be able to make suggestions and implement changes that can positively impact on the goals of the business.
Education is critical
Increasing knowledge and understanding of the workplace energy landscape can make a difference to thinking and behaviour. For instance, ensuring everyone is aware of how energy intensive some equipment is or how much energy a specific site uses can mean they change behaviour or make recommendations about how energy can be saved.
Use data to showcase improvements
Using data to showcase improvements can be an excellent way to demonstrate that positive actions are making a difference. This can be compiled into an infographic that demonstrates to everyone concisely the efficiencies and improvements that have been made.
Reward good behaviour
Incentives for recommending energy saving initiatives and a reduction in energy usage can be a great way to celebrate progress and ensure everyone is included. Rewards don't need to be financial; social rewards can often outperform monetary rewards, so ensuring that positive behaviour is recognised and celebrated can make a real difference to how employees feel.
Have a communication strategy
Businesses have so many ways they can communicate with employees: email, intranet, posters, desk drops and messaging platforms. Use these communication tools to talk about progress, targets and achievements.
Small changes can make a difference
At Control Energy Costs we have our website hosted at a 100% green energy data centre; choosing suppliers that have similar goals can enhance the credibility of your business and help you integrate sustainability into your supply chain.
Tapping into the ideas and enthusiasm of younger generations
The younger generation tend to be very environmentally aware, having a working group of younger employees or work experience students who come up with suggestions and bring fresh ideas can be a positive way to include them in key decisions about energy and the environment.
Research suggests that working for a company that serves a social purpose and has a program of environmental sustainability is important to millennials and generation Z. They also think about equality, diversity and they're socially conscious.
Harnessing the enthusiasm desire for change and improvement of this younger generation can enhance your business credentials. currently millennials comprise of approximately 30% of the world's population so they are likely to make up a significant proportion of your customer base or employees.