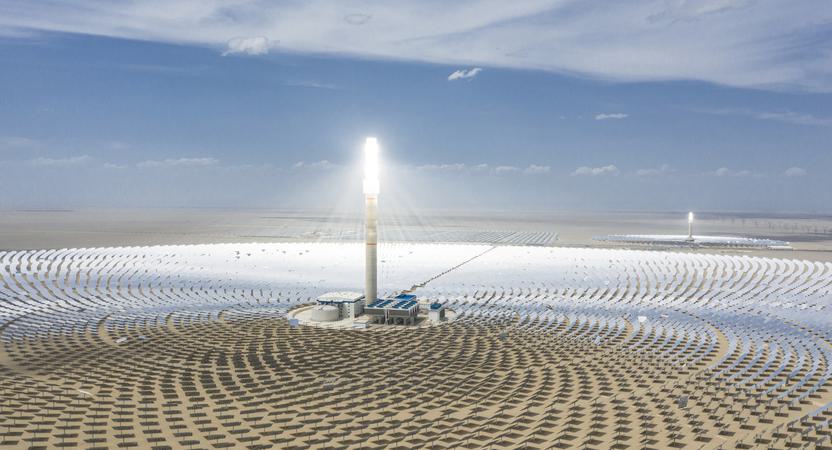 World's largest solar farm could solve Europe's energy crisis
Russia's invasion of Ukraine has accelerated the urgency for Europe to become less dependent on Russian gas supplies. As a result, the drive for renewable projects and innovative technologies has never been higher.
Thanks to the development of the world's largest concentrated solar farm, Noor Ouarzazate, Morocco is leading this international agenda and could be a vital lifeline for the energy crisis.
About the project
Noor Ouarzazate is a 580MW solar power project, located 10 kilometres north of the Moroccan city of Ouarzazate.
The development of the project occurred in three phases in which separate but co-located power stations were built. Construction began in 2013, and the first phase of the project was commissioned in 2016, a 160MW CSP plant dubbed Noor I. A 200MW plant (Noor II) and 70MW plant (Noor III) were commissioned in 2018, along with a fourth station (Noor IV) which uses photovoltaic technology. This works by directly converting sunlight into electricity using thin sheets of semiconducting materials.
How does it work?
The project operates using Concentrated Solar Power (CSP) technology. This technology harnesses solar power by the use of mirrors to reflect, concentrate and focus natural sunlight onto a specific point.
As the largest solar complex in the world, Noor Ouarzazate uses half a million curved mirrors to direct sunlight towards tubes of synthetic oil, which convert it to vapour. A turbine uses the vapor to generate electricity, providing power for 1.3 million people. As CSP is able to store the heat generated, it can be used during periods of minimal sunlight. The mirrors now span over 3,000 hectares (11.6 sq. miles).
A European lifeline?
With its solar panels generating three times more energy than Europe's and the abundant space to house them, Morocco's solar complex is the frontrunning solution to alleviating Europe's energy crisis.
Moroccan founder, President & CEO of Gaia Energy, Moundir Zniber, believes that "Morocco represents the best opportunity to get the European continent away from the dependency it has today on Russian gas."
Morocco is now striving to generate 52% of its electricity from renewable sources by 2030. The plan is for a large proportion of this electricity to be exported to Europe via undersea cables.
Eager to tap into this renewable energy goldmine, British energy start-up, Xlinks, has already made plans to build an undersea electricity cable from Morocco to the UK.
The cable is projected to cover 2,300 miles to southwest England. From here, it is hoped that it will supply 8% of Britain's electricity and power 7 million homes by 2030.
However, Morocco still currently depends on imports for 90% of its energy needs, most of which is generated from fossil fuels. According to Energy Transition Minister Leila Benali, renewable energy has been hampered by global factors, "The world is just coming out from a historic pandemic, total dislocation of supply chains and value chains - also affecting renewable energy, including the way we trade solar panels and wind turbines."
The country will need to expand its solar farms if it is to meet both its ambitious renewable energy target and be able to outsource supply to Europe.